It's hard to fill summer hours but taking a day trip from the Tri-Cities is one way to find adventure. Nearby areas are filled with activities and things to do suitable for the whole family. The Tri-Cities is conveniently located in the middle of many fun day trip options, from museums to state parks. Pack your car and head out on the road for a day trip to remember.
Yakima
A drive to Yakima is a little over an hour. There are lots of fun Yakima attractions and along-the-way stops to create an excellent, nearby day trip for the family.
McCallister Museum of Aviation
2008 S 16th Ave.
Yakima
The McCallister Museum of Aviation is a small museum featuring 55 displays. These include seven aircraft engines and two aircraft. Self-guided tours are free, but donations are appreciated. If you are interested, group tours can be taken for $2 per person. The museum is open from 11 a.m. – 3 p.m., Thursday through Saturday.
Yakima Arboretum
1401 Arboretum Dr.
Yakima
Yakima Area Arboretum is a beautiful outdoor experience. Take some time exploring the plants in the botanical garden and check out the Jewett Interpretive Center. The grounds are open from dawn until dusk, seven days a week. The Jewett Interpretative Center is open Monday through Friday, 9 a.m. to 5 p.m. by appointment. There are no admission fees, but donations are appreciated.
Granger
About 45 minutes into the drive to Yakima, the town of Granger is a fun pit stop to make. It's a small, simple town with a unique feature. The streets of Granger are filled with dinosaur statues. Located throughout the city on main streets and in front of buildings, you can walk or drive through to see the variety of species spread throughout the town. This brochure can be downloaded or viewed on your phone to ensure you find all the dinosaurs in town.
Northern Pacific Railway Museum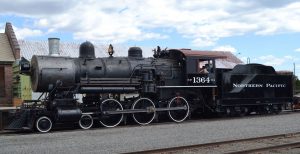 10 Asotin Ave.
Toppenish
Ten minutes down the road from Granger is the city of Toppenish (almost an hour away from the Tri-Cities). This small stop on the way to Yakima includes The Northern Pacific Railway Museum. Open 10 a.m. – 4 p.m. on Wednesday through Saturday, you can stop in to see trains, original equipment, and more. Adult admission is $5, and children under 12 are $3.
Walla Walla
About an hour's drive away, Walla Walla is a historic town filled with great dining and wine options. If you're looking for wineries, this site gives a detailed list of the ones in this area. In addition to the many wineries, there are other family-friendly activities as well.
Pioneer Park Aviary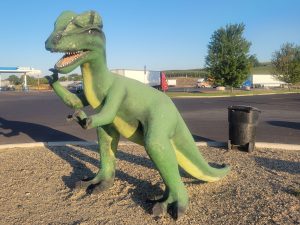 925 Whitman St.
Walla Walla
Walla Walla's Pioneer Park is the oldest park in the city, founded in 1902. Part of this beautiful park is a bird aviary housing several different species of waterfowl and land-dwelling birds. Open all year long to the public, this exhibit recreates the bird's natural habitat and encourages preservation and education.
Children's Museum of Walla Walla
77 Wain Wright Dr.
Walla Walla
The Children's Museum of Walla Walla is an excellent indoor activity to beat the heat. Their space includes several themed "playscapes" for all ages. They are open 10 a.m. to 5 p.m., Friday through Monday. Admittance for ages one and older is $4.
Whitman Mission
328 Whitman Mission Rd.
College Place
The Whitman Mission is a stop along the original Oregon Trail where the 1847 massacre occurred. This historic location is an educational stopping point about ten minutes before Walla Walla. The site helps to tell the story between the Whitman family and the American Indians in the area. There is no entrance fee, and it is open from 10 a.m. – 3 p.m. on Wednesdays through Sundays.
M-F Drive-in Theater
84322 Oregon-Washington Highway
Milton Freewater
About a 20-minute drive from Walla Walla, Milton Freewater hosts one of the only drive-in movie theaters in the area. End your day trip to Walla Walla with one of the weekly scheduled films found on their website. Gates open at 7:30 p.m., and movies begin at dusk. General Admission tickets are $7. Tickets for children ages 11 years and under are $2. Only cash is accepted. Showings are scheduled Friday through Tuesday.
Vantage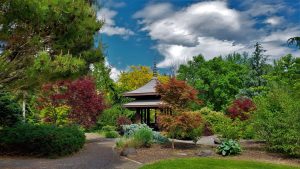 Ginkgo Petrified Forest State Park
4511 Huntzinger Rd.
Vantage is almost an hour and a half away from the Tri-Cities and is home to the Ginkgo Petrified Forest State Park. Learn about the state's diverse fossils and have fun in one of the many different outdoor recreation options. Visit the Gingko Petrified Forest section of the Washington State Park website to learn more about this unique area. A Discover Pass is required for access to this park.
Ginkgo Gem Shop
330 Ginkgo Ave.
After spending some time in the Ginkgo Petrified Forest State Park, head to the Ginkgo Gem Shop for a fun stop to complete the day. It's a small shop that offers many rocks for sale and features an extensive collection of petrified wood pieces to see on the outside. The grounds also have many giant dinosaur statues to view and take pictures with.
Wenatchee
Ohme Gardens County Park
3327 Ohme Rd.
Ohme Gardens Country Park is a hand-curated garden built by Herman and Ruth Ohem after buying the previously baren bluff in 1929. It took years of hard work to create this beautiful oasis. The park is open during the summer from 9 a.m. to 7 p.m., seven days a week. Adult admittance is $8. Youth ages 6-17 is $4, and kids under 5 are free.
Packwood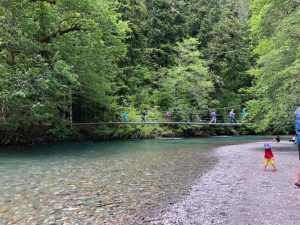 Grove of the Patriarchs
Eastside Trail off Stevens Canyon Rd.
The Mount Rainier area is filled with miles of hiking through forest terrain vastly different from what is found in the Tri-Cities. The Grove of the Patriarchs is one of the hikes available. It's a mile and a half long, winding through 1,000-year-old Douglas fir and western red cedar trees. This hike is family-friendly, but other hikes in the area are longer and more difficult. A list of other available hikes can be found here. A National Park Pass is required for the Grove of the Patriarchs and in other park locations.
You don't have to go very far to enjoy new and exciting experiences. Day trips are great in that way. You can have an adventure and sleep in your bed at home.