The craft beer scene in our beautiful state of Washington has come a long way since its start back in the 1980s, with its roots traced to early hop farms that were first planted here over a hundred years ago. These days there are over 300 breweries and counting in our state, and lucky for the Tri-Cities community, many of them have sprung up here in our local area to offer residents and visitors deliciously hand-crafted brews and ales!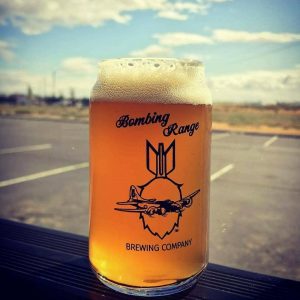 Atomic Ale Brewpub & Eatery
1015 Lee Blvd., Richland
509.946.5465
Hand-crafted ales and wood-fired hand-tossed pizzas are paired scientifically to prove that flavor does exist at Atomic Ale Brewpub & Eatery in Richland. This brewpub is actually the Tri-Cities' first brewpub, founded by Aaron Burkes in 1997. Their distinctive menu is cooked in the Tri-Cities' original wood-fired oven to complement their fresh, full-flavored hand-crafted ales. These ales were born long ago out of Aaron's passion for the fine microbrews of the Northwest. He honed his taste buds on such brew perfection by going out into the world and sampling various beers in twenty different countries worldwide before returning home to brew his own.
He is credited for crafting the original Atomic Ale recipes and founding the brewery. However, he eventually passed it on to a new brewer he trained himself shortly after the brewpub started. Over the years, their eclectic group of brewers and beer enthusiasts, both past and present, have created new beers and added their own individually unique talents to the brewing tapestry that is Atomic Ale.
Bombing Range Brewing Company
2000 Logston Blvd., Suite 126, Richland
509.392.3377
Bombing Range Brewing Company aims to produce high-quality ales and lagers that they can proudly serve to the hard-working residents of the Tri-Cities community. Local owners Mike and Dashia Hopp have worked hard to create a laid-back and relaxing atmosphere where fellow community members can all come together and enjoy a drink.
They firmly believe that beer is meant to be enjoyed instead of scrutinized, over-analyzed, and judged, so if you feel the same way, they may just be the perfect brewpub for you!
Moonshot Brewing
8804 Victoria Ave., Suite 130, Kennewick
509.491.1058
Approachable to adventurous is the only way to describe the wide range of beers found at Moonshot Brewing in Kennewick. This family-friendly brewery welcomes all ages and even the doggos. Since opening in 2019, they've devoted their ale selection to various beer styles.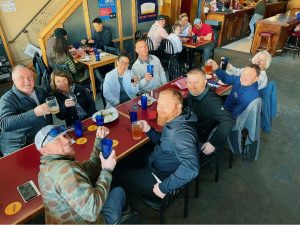 These delicious libations are brewed on a 3.5 barrel stout system designed to allow Moonshot Brewing to experiment with small-batch brews. This enables them to offer our Tri-Cities community an ever-changing and wide selection of beers ranging from crisp lagers to hoppy IPAs and sour and barrel-aged beers inspired by owner Ryan's time in the wine industry.
Ice Harbor Brewing Co.
206 N. Benton St., Suite C, Kennewick
509.582.5340
Located in a renovated historic building in downtown Kennewick is the Tri-Cities premier brewery Ice Harbor Brewing Company. Serving award-winning beers and pub "grub" in their quaint space featuring an antique bar are local owners Mike Hall and Bill Jaquish, who opened the pub in 1997.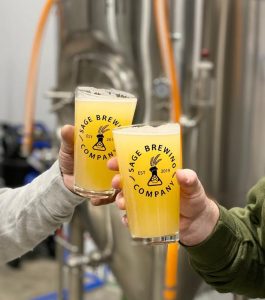 By 2004, demand for their hand-crafted beer had grown so much that the pub was moved to its current location in historic downtown to better serve the Tri-Cities community. Since then, a second location for the pub has been opened up at the Marina, with each having its own charm and character remnant of that of the neighborhood bar for the days of "yore." This creates a comfortable gathering feeling where everybody can gather together and appreciate a fine, hand-crafted beer.
Sage Brewing Company
8425 Chapel Hill Blvd., B102, Pasco
509.316.4035
The original location and where it all began for the Tri-Cities' Sage Brewing Company is its location in Pasco. There, they operate a full taproom, giving their patrons the best place to get the freshest beer straight out the tap. Both sites also offer locally sourced wine and cider, but this is the only location between the two with a resident taco truck on-site and carnicería, with a full deli next door.
Paper Street Brewing Company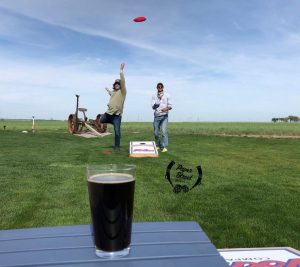 241 Fanning Rd., Pasco
509.460.9814
In 2018, a new brewhouse was built for Paper Street Brewing Company in the city of Pasco on the same farmland its production takes place. Since then, locals have enjoyed stopping by the "country-style" taproom that opens into an outdoor area with games and seating facing a beautiful view of the nearby hills. Food trucks come out to the brewery every Friday and Saturday all spring through summer so patrons can enjoy a cooked bite to eat, but during the cold season, ale lovers are welcome to bring their own food or order delivery.
All these breweries and more proudly serve the Tri-Cities community since Atomic Ale started it all here in our area in 1997. Each brewery that has popped up since that time offers a unique taste of local flavor and representation in the form of delicious brews. And though the preferences may be different, all these brewpubs have a few things in common — they are all great places to hang out with friends, kick back, relax, and enjoy all the atmosphere, sounds, and flavors that the Tri-Cities has to offer.