All is calm and bright as we make our way toward the 2022 holiday season. It's all more radiant smiles, brighter days, and even brighter lights in the night sky as outdoor holiday light displays begin to decorate the Tri-Cities and illuminate the way for Santa Claus as he gets ready to come to town. These fabulous holiday light displays in the Tri-Cities are here to brighten the path for the big man himself and brighten your spirit with some holiday cheer.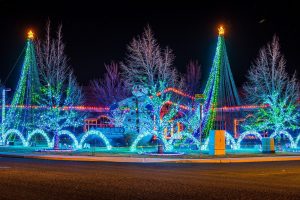 Senske Holiday Light Show
400 N. Quay, Kennewick
877.944.4007
Tri-Cities' favorite tradition, the Senske Holiday Light Show, proudly returns this year for its eighteenth year of bringing holiday joy to the community. More than 500,000 Christmas lights brighten the winter sky in an animated display that's free to the public. Open nightly all through December from 5 p.m. until midnight, guests can enjoy these magical lights that are also synced to music if you tune into 90.3 FM, making it seem as though they're dancing along with the holiday spirit.
Other fun in this winter wonderland includes selfies stations throughout the show where you can get photos with friends and family, as well as letters to Santa that can be dropped off at an official North Pole mailbox. If you feel like celebrating the very best of the holiday season's heart and soul by giving back to those in need, Senske Services accepts monetary and non-perishable food donations for 2nd Harvest during the festivities.
Festival of Lights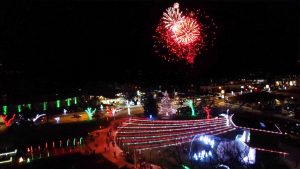 500 Amon Park Drive, Richland
509.942.7529
Christmas fun for the whole family is found every evening until January 2 from 5 until 9 p.m. at the Festival of Lights at Howard Amon Park. Opening weekend, December 2 and 3, will kick the festivities off with a lighting countdown and an appearance from Santa and the Missus, along with other holiday characters. Complimentary cocoa and kettle corn will be handed out while supplies last, and many food vendors will also be on site.
There's joy to behold in all the merriment as photos are taken with Santa, BINGO is played, train rides on the J&S Express depart for the North Pole, and musical performances bring the sound of Christmas to the crowd. Topping off the magic is the Clover Island Yacht Club lighted boat parade and fireworks show to bring even more dazzling illumination to the event. For those of you who can't make it opening weekend, don't worry! Santa and friends will return to bring more Christmas cheer on December 9, 10, 16, and 17.
Benton City Lighted Parade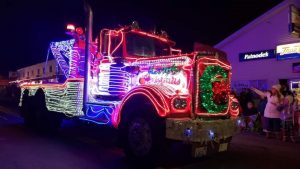 513 9th Street, Benton City
509.588.4984
Benton City kicks off the holidays on December 10 during their Winterfest 2022. It's a day dedicated to all things Christmas that starts at 9 a.m. with a Santa Run 5K, followed by a Holiday Bazaar and Family Festivities from 10 a.m. until 3 p.m. at the Ki-Be High School. Over 50 unique vendors will participate, and a raffle fundraiser will be held with donated prizes.
The Benton City Lighted Parade will end the festivities, illuminating the night sky in the colors of Christmas starting at 5 p.m. After the parade, head on over to the City Park for the city's annual Tree Lighting ceremony, caroling, and some warm hot chocolate!
Christmas Carol Lane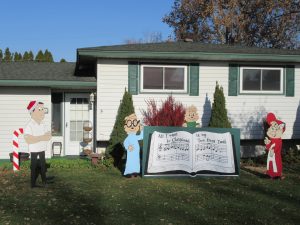 23rd Place to 27th Avenue
Garfield to Kent Street
Kennewick
Every year since the 1960s, Christmas Carol Lane in Kennewick has warmed hearts with the spirit of the holidays, all while transforming the neighborhood into a magical winter wonderland. This year will be no different, as their song boards and decorations will go up after Thanksgiving. Each house will have its own song board in the yard, and decorations on the house will match the theme on the board, much to the delight of the crowds.
This free, family holiday favorite Tri-Cities holiday tradition is still free to the public after all these years for viewing anytime. With each new year, the displays have become bigger and brighter as these beautiful holiday displays continue to illuminate the way to Santa's big day.
Christmas really is the brightest of seasons; the hope, joy, and cheer it brings to millions is something that each and every one of us looks forward to during this special time of year as we get ready to start a new chapter. Members of the Tri-Cities community experience this joy and magic of the season at these amazing holiday light displays this Christmas season.