Summer has finally graced us with its presence again, and the promise of adventure is in the air as the excitement to get back to enjoying the outdoors rumbles within us all. Favorite summer hobbies like swimming, bike riding, fishing, hiking, and the like are welcoming us back with open arms, and we can't wait to get back into our usual summer routine. But wait, what about those of us who don't want to have the usual adventures this summer? What about those seeking to kick off summer with a bang with adventures we never expected to experience before? Luckily for those curious wanderers who want to take a walk off the beaten path, there are plenty of places in the Tri-Cities community to have some fun with amazingly unexpected adventures this summer.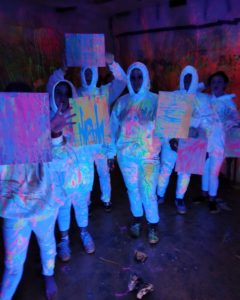 Take a Break
309 W Kennewick Ave., Kennewick
509.378.8879
A new business in Kennewick is offering customers a unique experience with the Columbia Basin's first-ever "Rage Room." At most stores, if you break it, you buy it, but at Kennewick's Take a Break, the goal is to actually break the merchandise! Currently, the local business offers two rooms where customers can let off steam. The rage room allows customers to vent their frustrations on the various objects lying around and smash them to their heart's content. The paint splash room is the other space where customers can fling and throw paint to get as creatively messy as possible. Plus, you get to take home a souvenir from this experience in the form of a splattered masterpiece!
Power Up Arcade Bar
1022 N Columbia Center Blvd., #210, Kennewick
509.579.4255
The Tri-Cities' very first arcade bar, Power Up Arcade Bar, is welcoming the Tri-Cities community with a unique bar experience. They're currently serving up cold beer from 18 tap selections along with a full-service cocktail bar. They encourage all who are curious to stop in and grab a drink and play some gaming classics like Frogger, Pac-man, and pinball!
Max Air Trampoline Park
7311 N Columbia Center Blvd., #100a, Kennewick
509.579.0818
Those looking to catch some air instead of some waves should consider paying a visit to Max Air Trampoline Park in Kennewick. Max Air has everything from dodgeball, a kids zone, foam pits, a ninja course, and a large open-air area to fulfill all your jumping wants and needs. Weekly events at the park include a Toddler Time on Tuesday and Thursday from 10 a.m. until 12 p.m. and Club Air nights Friday and Saturday from 8 p.m. until closing time that promises nights filled with music, fun, and of course, trampoline jumping. They also have Family Day on Monday, Student Day on Wednesday and Twice the Time events on Tuesday, where you get two hours for the price of one! It's bound to be a fun-filled adventure outside the norm for those who choose to head on over to catch some air.
Under Sea Adventures
6855 W Clearwater Ave., #G, Kennewick
509.735.0735
Sea lovers will enjoy a trip to Under Sea Adventures in Kennewick this summer. Ranked Southeastern Washington's number one dive center, Under Sea Adventures is a full-service dive center that specializes in education, sales, service, rentals, and all things dive travel. They also offer a wide variety of classes, including stress and rescue, first aid/CPR, advanced open water diver, and advanced adventurer diver classes. Stop in today and plan your next great big water adventure with the staff at Under Sea Adventures!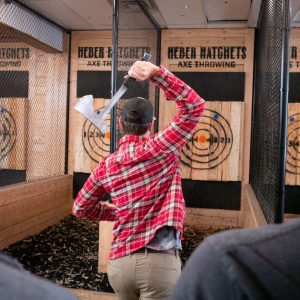 Heber Hatchets
117 W Kennewick Ave., Kennewick
509.820.2940
A night out on the town just got a lot more interesting thanks to Heber Hatchets Axe Throwing in Kennewick. The fun and adventurous art of axe throwing can be a new and thrilling experience that can be tried out firsthand with friends and family at the location. This competitive event will bring out your inner lumberjack. They offer various options for booking, including birthday parties, family nights, youth group activities, date nights, bachelor & bachelorette parties, and corporate events.
Fast Track Tri-Cities
1321 N Columbia Center Blvd., Kennewick
541.701.7253
For those who like living life in the fast lane, Fast Track Tri-Cities has you covered for all your adrenaline junkie needs. Fast Track provides the Tri-Cities area with the ultimate go-kart experience. With affordable pricing and an easy check-in process, they make it possible to simply arrive and drive for those interested in trying out a potential new hobby. You can even rent out the track for parties of up to nine karts — perfect for everything from birthday parties to corporate events. Come hit the track and see who will take first place!
Atomic Escape Rooms
1653 Fowler St., Richland
509.735.4045
Anyone looking to escape reality this summer should consider heading to Atomic Escape Rooms. They offer three awesome activities that are fun for all those who choose to partake in the thrill of racing against the clock while enduring a series of challenges — escape rooms, mobile escapes where they bring the escape room experience to your own personal party or events, or mystery escape dinner shows where you compete against other tables to see who can solve the mystery first. Their live escape rooms offer an immersive, real-life experience filled with tangible props and character actors that put you right into the action. The virtual reality escape rooms allow you to travel the world and experience adventures in new and fantastical realities. Tickets start at just $28 per person!
Besides these local hot spots, there are also plenty of other places in the Tri-Cities area offering unique and unexpected adventures this summer. Places like Northwest Paddleboarding, Columbia Kayak Adventures, Hole in the Wall, and many more one-of-a-kind businesses call the Tri-Cities area home. They're out there waiting to ensure that all citizens in our Tri-Cities community have an opportunity to partake in some unexpected adventures this summer season.