I'll be back.
Houston, we have a problem.
The first rule of fight club: You do not talk about fight club.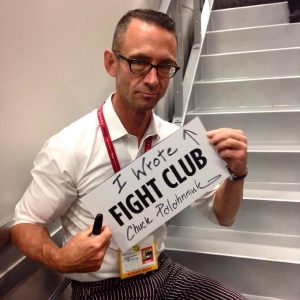 These are all famous one-liners from film history that are permanently etched in our brains, whether we've ever watched the movie or not. They've embedded themselves into our everyday culture and have left their mark in film history.
For the Tri-Cities community, one of these aforementioned one-liners actually comes from the great mind of one former Pasco community member. That's right, that golden rule everybody knows about not talking about fight club is actually from the novel "Fight Club" by Charles "Chuck" Palahniuk, born on February 21, 1962, in Pasco.
A bloodline rich in French and Ukrainian ancestry, Chuck was born the son of Carol Adele and Fred Palahniuk and grew up living with them in their mobile home in Burbank, Washington, until he was 14 years old. It was at this age that his parents separated and divorced, and as a result of the separation, he and his three siblings were often left to live with their maternal grandparents on their cattle ranch in Eastern Washington.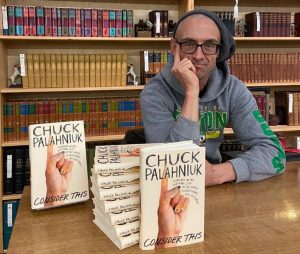 When Chuck grew up, and it was time for college, he enrolled at the University of Oregon School of Journalism, graduating in 1986. Of course, like for most writers, graduation did not mean immediate success. At first, he wrote for the local newspaper for a short while, but then began working for Freightliner Trucks as a diesel mechanic. During this time, he wrote manuals on fixing trucks while simultaneously working a brief stint as a journalist on the side. He ended up quitting this job though in 1988 after casually attending a seminar by Landmark Education. He would not return to journalism until after he became a successful novelist.
Chuck took up the hobby of writing fiction in his mid-30s when he started writing again after attending workshops for writers that Tom Spanbauer hosted. His hope in attending was to meet new friends, but as he kept going, he became primarily inspired by Spanbauer's minimalistic writing style. As the pages began to manifest for his own works, he discovered his unique style and now describes his works as transgressional fiction.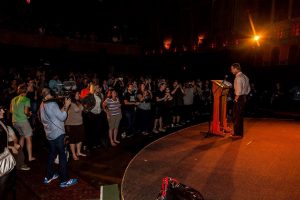 His first novel, "Invisible Monsters," was rejected by all publishers he submitted it to, but he did not let himself become discouraged. Instead, he went on to work on his most famous novel of all, "Fight Club." Initially, it was published as a short story in the 1995 compilation "Pursuit of Happiness." Inspired, Chuck expanded it into a full novel, with the short story actually turning into Chapter 6 of the book. To his surprise, a publisher accepted the novel and a hardcover edition was released, receiving many positive reviews and even some awards, such as the Pacific Northwest Booksellers Association Award and the Oregon Book Award for Best Novel.
After its release, the man who once struggled to find a literary agent had no trouble at all as 20th Century Fox took an interest in the novel and, as a result, was signed by actor and literary agent Edward Hibbert. It was Hibbert who would guide and broker the deal that would put "Fight Club" onto the big screen. The film adaption was released in 1999, just three years after the novel's publication, and included star actors like Brad Pitt in the lineup.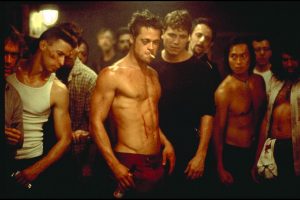 Despite being Number 1 at the U.S. box office on its first weekend, the film itself was a box office disappointment, and critical reaction toward the film was mixed. However, a cult following of sorts soon emerged as the film's DVD became popular upon release, and soon everyone knew that we don't talk about fight club. As a result of this success, three editions of the novel were published in paperback in 1999, 2004, and 2006, along with "Fight Club" being adapted to comic form for an additional series to the novel being released in 2015.
Three novels followed the publication of "Fight Club" for Chuck. These were a revised version of "Invisible Monsters," "Survivor," and "Lullaby." "Lullaby" came from the tragedy Chuck endured that year, losing his father to a premeditated shooting involving the murderer receiving the death sentence and Chuck being present for the trial. Later, he stated that he wrote the novel to help him cope with the tragedy.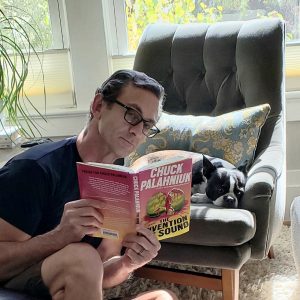 Chuck's growing success as a writer expanded farther than novels as his career continued. While doing a tour in 2003 to promote his newest book "Diary," he thrilled his audiences with a narrated short story known as "Guts." It was such an exhilarating success that he continued to read it on other tours and eventually incorporated the story into his next book "Haunted." Having enjoyed the telling of a short story, he went on to write many more, including "Knock, Knock," "Cannibal," and "Zombie."
Today, Chuck and his partner, whom he's been with since the 1990s, live a quiet life in the forests of Vancouver, Washington, in a former church compound. He continues to write both fiction and nonfiction masterpieces, with many of his current works and projects showcased on his social media profile and his website. And before you ask, we still don't talk about fight club.