Many in the Tri-Cities have gained an interest in the ways of growing spiritually. It has become very popular, whether with crystals, tarot cards, oracle cards, reiki healing or spells. With those in the area following their own spiritual paths, these four metaphysical stores in the Tri-Cities are just for you. All of them have loving energy waiting to welcome you in to find the right deck, crystal and more.
Lotus of the Moon
1386 Jadwin Ave., Richland
509.940.7460
Lotus of the Moon offers beautiful options to guide your soul's journey. The team making this wonderful store possible is Stephanie McCarl, Lenny McCarl, and Ashleigh Rogers. Lotus of the Moon has crystals from cleansing selenite to protecting tourmaline. The positive energy courses throughout your body when you walk in, and you'll feel calm, blessed, and prosperous. Artwork hangs on the walls for purchase or to enjoy and see what powerful messages they portray.
Their library offers excellent choices as well. Lotus of the Moon has informational books about our chakras, self-love, birthday horoscopes, and more. Singing bowls as big as your body are also here for those who consider a mind, body, and soul meditative session. You can also book a session with a tarot reader on their website. And if you know how to connect with tarot or oracle, the selection of the decks will most definitely call you.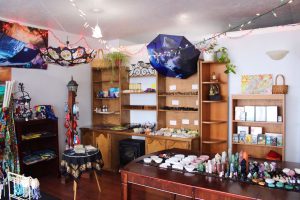 Saphira's Treasures
1367 George Washington Way Ste C, Richland
509.205.0130
A visit to Saphira's Treasures is good for the soul. This cute store is perfect for those looking for crystals to carry with them for healing benefits. Saphira's Treasures has mainly crystals, but they also have incense, tarot and oracle decks, stickers, and books. A few books they have are beneficial for beginners interested in protection spells and calling your inner power.
The owners of Saphira's Treasures are lovely. This mother and daughter duo created a delightful shop where we can learn more about our spirituality. When you have a question about crystals and how they can help you along your journey, they have a book that shows the crystals and their healing powers. This book reveals how the crystal's energies can help heighten or protect you.
Earth Spirit
113 W Kennewick Ave Suite A, Kennewick
509.378.7650 
Founded by Erin Sagadin, Earth Spirit is a storefront for beginners and those who love rituals. You are greeted with artwork, crystals, candles, jewelry, and more when you walk in. In this magical store, you can even pick your tarot card for the day with a bowl at the front desk filled with a deck of cards already shuffled. All you have to do is intuitively pick a card that you know is for you. This card has a meaning and is the message you should know for the day.
Further in the store, find plant holders, couches, paintings, chapsticks (tinted and clear), and the best of all — bath salts. The soothing bath salts are Epsom salt mixed with herbs, and each has a different name for a moon cycle or a relaxing day ritual. With the New Moon and Full Moon bath salts, you can create or follow a ritual to release old energy, welcome new beginnings, and be thankful for the cycle that just ended. Earth Spirit welcomes all you curious beings.
Butterfly FX
Growing the community's spirituality is ButterflyFX, the house of intuition and crystal energy. Keena is an intuitive mystic and crystal enchantress. She reads tarot cards, interprets dreams, and shares healing through crystal energy.
Keena comes from a line of caregivers — Surahanas (traditional Chamorro healers), protectors, lineage holders, and Island daughters. Deeply rooted in healing, her ancestor's healing spirit is carried in her. Keena is a darling soul with happy vibrations and a genuine smile. When asking her your question, know she is here to tell you what you need to know, not what you want to hear.
Although Keena does not have a storefront just yet, every spiritual being in the Tri-Cities can mark their calendar for April, when Keena's mystical shop will be set up and ready to go! In the meantime, you can go to her website to see your choices regarding scheduling a reading with her. Over the phone, you can ask her a question on the topics of love, relationships, career, finances, or something in general to see what lies ahead.
All these metaphysical stores in the Tri-Cities have tarot decks, crystals, and intuitive advice. Each store can help you along your path on Earth. May you find what you are looking for.