The lovely springtime feeling is in the air, and now is the time to fill your home with beautiful plants. Nothing says spring like a little in the house garden. While there are a lot of places to buy houseplants in the Tri-Cities, one store everyone should visit is The Little Plant Shop. Here you can find Pasco's very own plant whisperer.
The Owner
The Little Plant Shop's owner is the friendly, helpful, and kindhearted Jose. His story starts out with being a hairstylist, but that work was not for him. "I have to admit, I didn't love it," he says. Knowing how much more he loved plants and seeing the pop-up business community booming, Jose and his husband thought, 'that's a good start.' They applied for their business license and set out to start their first pop-up.
The first event they hosted was at Shade Cafe by DermaCare of Tri-Cities. Surprised with the amount of popularity their plants brought, Jose and his husband knew that this business was meant for them. There was just one problem. "We had to take everything home, set it up, then break it down," Jose recalls. It was a little overwhelming. So, the couple started looking for a permanent shop right after their first few pop-ups in May. As they scouted many places, they found the right one for them in Pasco in June. After a month of setting up, they opened their shop in July of that same year!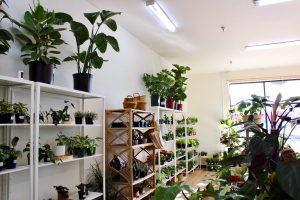 The bright store absorbs the sun's rays all day. It is cheery and light, like a summer morning. Jose loves all plants. If you watch his story on Instagram, you can say he definitely has a green thumb. One plant stands out as Jose's favorite — a Monstera Thai Constellation he keeps at home. This plant is absolutely gorgeous with its green leaves and white spots.
The Plants and Plant Policy
At The Little Plant Shop, there is so much greenery to see! With rays for days, the plants here are absolutely thriving. You can just feel the happiness in the plants once you walk in. Find gorgeous flowers, Taco Leaf Peperomias, Bird of Paradise, air plants, plant pots, and more. The Little Plant Shop offers easy, low-maintenance plants and some that need a bit more care, just for you.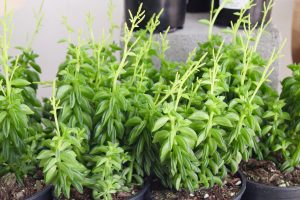 The Little Plant Shop's policy is one that can help even beginner plant moms and dads. "We always try to be pretty good about care instructions to make sure their plants thrive at home," Jose says. Jose is not only sharing his wisdom about plants with us but is also showing us the love he puts into each plant. In turn, learning how to take care of the plant we just bought ensures the plant will stay healthy and happy in its new home, and we'll be pleased that a plant is bringing good vibes into our lives.
And there is help if there are complications with your plant after taking them home. For example, if it withers, turns yellow, or has unnatural spots, you can go on their website and email pictures of your plant(s). They will email you back with the best of their knowledge and a solution so you can help your plant grow with pride again.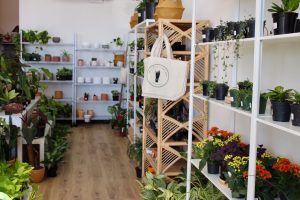 Jose's plant store has seen so much popularity for the upcoming spring and summer seasons with new shipments, new faces, and sunny days. You can come back time and time again for the next plant to brighten your home. "Here at The Little Plant Shop, we love plants, and everyone is welcome!" says Jose. So, get out and grab a plant of your own to bring a spot of lushness into your life.
The Little Plant Shop
3315 W Court St., Unit 100
Pasco
509.792.1026
info@LittlePlantShopTC.com